Y2K Winter Fashion Outfits And Ideas: The Latest Trends for the Season
Are you ready to step back in time and embrace the Y2K fashion craze this winter? If that is the case with you too, then you have found the right article! Because today, we are set to discover the secrets of y2k outfits and y2k fashion winter.
Y2K fashion, inspired by the early 2000s, has made a big comeback. Not just this, it is taking the fashion world by storm! Come with us to explore the Y2K winter fashion trends that is making a great fuss right now, delve into the colours that define the Y2K aesthetic, discuss its impact on the fashion industry, and find out if Y2K fashion is still trending. All the fashion lovers let's get started!
What are the Colours of the Y2K Aesthetic?
source: google.com
The Y2K aesthetic is all about embracing vibrant, playful, and eye-catching colours, don't you agree with us? Colours that took the y2k outfits by storm were mostly the shades of bright colours. Think about bold pinks, bright blues, sunshine yellows, and shimmering metallics. Pastel shades like baby pink and powder blue also play a major role in Y2K fashion. These colours are reminiscent of the early 2000s and bring a sense of nostalgia and fun to your y2k fashion winter.
Read Also: Discover The Best Fashion Nova Winter Outfits For Ladies
Top 7 Best Y2K Winter Fashion Trends
Not kids but the winter fashion was a little yeasty! Here is some of the winter fashion trends that we should know about.
Sweaters with Mini Skirts: Yep, as ridiculous as it may sound now. It was one of the key Y2K winter fashion looks involves pairing chunky, oversized sweaters with miniskirts. Do not be afraid to mix and match colours to create a bold and trendy outfit.
Butterfly Prints: Butterflies were a big part of Y2K fashion, and they are making a comeback. Look for butterfly-print tops, dresses, and accessories to add a touch of whimsy to your winter wardrobe.
Faux Fur: Stay warm and stylish with faux fur coats, jackets, and accessories. They not only keep you cozy but also add a touch of luxury to your Y2K-inspired look.
Platform Sneakers: Chunky platform sneakers are a must-have for achieving that Y2K vibe. They add height and a dose of nostalgia to your outfit, making them perfect for winter walks.
Shiny Metallics: Embrace the shimmer with metallic pieces. Silver and gold tones are particularly popular for y2k outfits. You can incorporate metallics into your outfit through accessories like bags and boots or even in your clothing choices.
Low-Rise Jeans: Low-rise jeans were a huge deal in the 2000s. however now we are all more into the high rise but if you wish to carry the low rise then pair them with crop tops or layered tops for a chic and youthful look.
Colourful and playful accessories: Don't forget to accessorize with colourful items like bucket hats, tinted sunglasses, and statement belts. These small details can make a big difference in achieving the Y2K aesthetic.
Read Also: The Complete Guide to African American 80s Fashion Outfits And Style
The Impact of Y2K Fashion on the Fashion Industry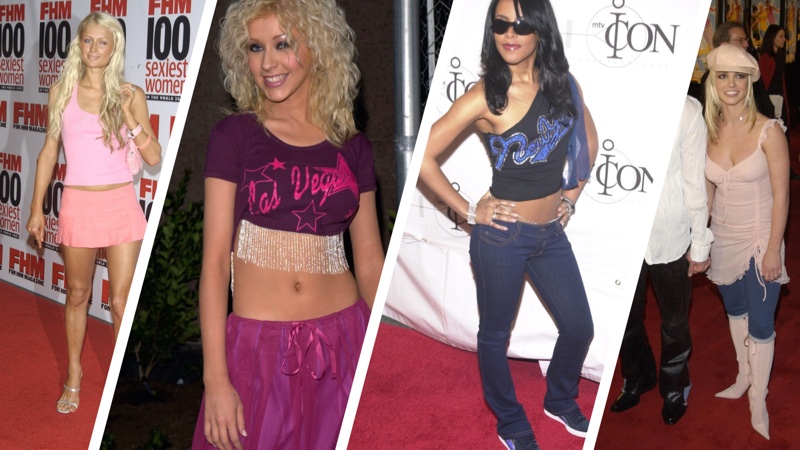 source: google.com
Y2K fashion has had a really important impact on the fashion industry. Designers and brands have been quick to embrace this trend. Releasing collections inspired by the early 2000s. Celebrities and fashion influencers have also been spotted rocking Y2K looks, furthers spreading its popularity.
Additionally, sustainable fashion has been influenced by Y2K fashion. Many thrift stores now carry vintage Y2K pieces, making it easier for fashion enthusiasts to adopt this style in an eco-friendly way. Vintage shopping not only allows you to find unique Y2K gems but also reduces the environmental impact of fast fashion. If you are someone who wish to start their journey of Y2K fashion, then do not miss out on checking the thrift stores.
Read Also: 10 Best Korean Winter Dress Style For Ladies And Outfits
Is Y2K Fashion Still Trending?
Yes, Y2K fashion is still very much in vogue. While fashion trends come and go, the Y2K aesthetic seems to have found a lasting place in the fashion world. Its bold colours, playful designs, and nostalgic appeal continue to attract fashion lovers of all ages.
Whether you are a fan of chunky sneakers, shiny metallics, or butterfly prints, there is a Y2k winter fashion women's trend for everyone to embrace this season. So, do not hesitate to experiment with Y2K outfits, mix and match colours, and have fun with your winter fashion choices.
Y2K winter fashion for women is all about embracing the vibrant colours and playful styles of the early 2000s. From chunky sweaters to butterfly prints, there are plenty of trendy options to choose from. Y2K fashion has made a lasting impact on the fashion industry, and it is still very much in vogue. So, go ahead and embrace the Y2K aesthetic to add some fun and nostalgia to your winter wardrobe. Good luck with your fashion experimentation!
Sonali Tomar