Put on your red shoes and dance: the enduring euphoria of Powell & Pressburger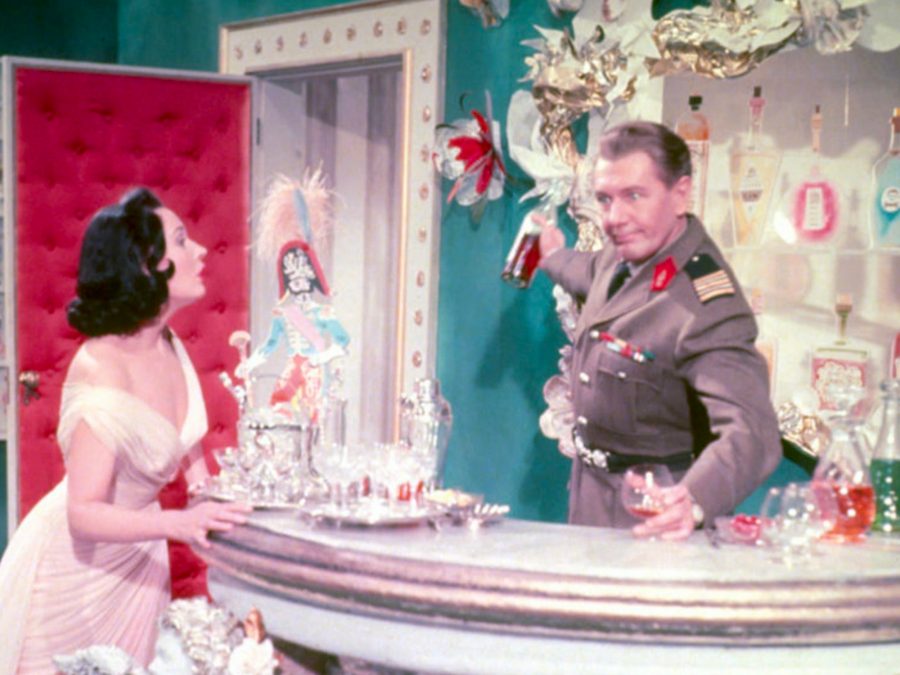 In the 1975 musical A Chorus Line, auditionee Sheila says that she started dancing without seeing The Red Shoes as a girl surpassing singing that "everything was trappy at the ballet". Sheila represents those for whom Michael Powell and Emeric Pressburger's 1948 ballet mucosa was a seminal cinematic experience. Powell himself wrote in his 1992 autobiography, Million-Dollar Movie, "It is no longer a film; it is a legend."
Million Dollar Movie was moreover the title of an American TV series which unconcentrated curated films twice-nightly between 1955 and 1966. It was this series which introduced Martin Scorsese to many of the films that inspired his sensibility, including those of Powell and Pressburger. When I was a child I saw a DVD trailer well-nigh mucosa restoration which featured Scorsese talking well-nigh how he had saved The Red Shoes through his passion project The Mucosa Foundation. I remember the clips shown, with those succulent rouge pointe shoes popping off the screen. It ignited my passion for Powell and Pressburger.
It seems that everyone who loves these films has a similar story. I spoke to mucosa scholar and silent mucosa specialist Pamela Hutchinson well-nigh her new book, a BFI Mucosa Classic defended to The Red Shoes, well-nigh what she thinks continues to request to new generations. "Their movies engage all the senses, depict a vast, bewitching universe, and profess a faith in the very specific qualities of talkie to build worlds and create untellable beauty," she says. "This strand of exuberance has unchangingly been part of British cinema, but they brought it out to its fullest expression with their films."
The BFI is well-nigh to exploit this cinematic yank to the full, launching the biggest retrospective of the creative partnership's work to stage from 16 October. 'Cinema Unbound: The Creative Worlds of Powell and Pressburger' will take over the BFI Southbank in London as well as venues wideness the UK, showing everything from Powell's early 'quota quickies' and Pressburger's UFA screenplays to the duo's final frontiers in television and Australia. The aim is to introduce new audiences to their films, via Technicolor classics including A Matter of Life and Death (1946) and Black Narcissus (1947), and offer unexplored territory to fans with a plethora of rarities like Honeymoon (1959) and Bluebeard's Castle (1964).
The duo first came together at the throwback of legendary British mucosa producer Alexander Korda for 1939's The Spy in Black, a Second World War espionage thriller conceived as a vehicle for Conrad Veidt. 'Man of Kent' Powell and Jewish-Hungarian emigré Pressburger were both contracted to Korda, and their repartee led to a shared writer-director-producer credit under the imprint of their new company, The Archers. Three decades later, long without the pair had finished making films together, Scorsese introduced Powell to his new editor, Thelma Schoonmaker. They fell in love and were married in 1984.
Since her husband's death in 1990, Schoonmaker has worked with Scorsese on securing Powell and Pressburger's legacy. They have collaborated on restorations of their films, including I Know Where I'm Going (1945), The Small When Room (1949), and Peeping Tom (1960) which are receiving UK releases over the coming months. It will indulge audiences to see their films in the full radiance of their original showings, and for many to see them for the very first time.
The season has been divided up by theme rather than showing the films chronologically, moving through fantasy and spectacle, myth and landscape, nationalism and conflict, opera and ballet, and outsiders and obsessives. Talking well-nigh the inspiration for the structure, curator James Bell says, "We started from the BFI National Archives hodgepodge and moved from there. For example, we have a trappy rare print of Oh… Rosalinda!! [1955], and we want audiences to be enlightened that this is an irreplaceable experience." The inside place of original mucosa prints in the season follows the resounding success of the BFI's inaugural Mucosa on Mucosa festival in June. "That proved there's an want for seeing the original artefacts," Bell reflects.
Many films in the programme are stuff shown on original prints where possible, with several shown on newly restored prints including Contraband (1940), The Life and Death of Colonel Blimp (1943), and The Tales of Hoffmann (1951) made by the BFI with National Lottery funding and the Keep Mucosa on Mucosa campaign. The crowning jewel of the season will be a nitrate print of Black Narcissus, transporting the regulars right when to the film's first glorious exhibition in 1947.
Bell has moreover been painstakingly remastering Powell's early films in 4K. "I'm particularly excited that we're bringing in a mucosa tabbed Behind the Mask (1936), a truncated post-war release version of Powell's last quota quickie, Man Behind the Mask, which was previously on the BFI's most-wanted list," Bell says. "We didn't have a reprinting of it in the gazetteer but managed to track one lanugo to an gazetteer in the States and bring it over."
The new 35mm print of The Red Shoes is due for release in December, perfectly timed with the publication of Hutchinson's book. Asked to reflect on why this mucosa stands out in a staggering soul of work, she says, "Of all the films that they made this is the one that most fervently states the specimen for art as a vital, essential part of life. Its extended, Technicolor ballet sequence is ravishing and disturbing, a statement all its own well-nigh what talkie can do, untethered from convention. I can't wait for people to discover it all over again."
Part of that new journey of discovery will come with The Red Shoes: Beyond The Mirror, a self-ruling exhibition at the BFI Southbank from November featuring costumes, production designs, ephemera, and the red shoes themselves. Bell is delighted to be opening up items in the BFI Special Collections to the public for the first time, including an variety of material from unrealised projects through online channels. "They retell the story of Powell without Peeping Tom, when he's washed up commercially but artistically that's completely not the case," Bell says. "The energy is undimmed. If anything, it's plane increasingly radical than before." Those projects range from a mucosa of The Tempest starring James Mason and Mia Farrow to a version of Ondine intended for Audrey Hepburn and an version of Ursula Le Guin's The Tales from Earthsea.
Unlike most BFI seasons, this is a national cinematic event. There will be aroma-focused immersive screenings of Black Narcissus, on-location screenings for I Know Where I'm Going and The Edge of the World (1937), an installation at Derek Jarman's Prospect Cottage in Dungeness, and other events from Cardiff and Derry to Cambridge and Manchester.
It is no-go to think that by the 1960s Powell and Pressburger had completely fallen out of malleate in Britain when looking at the sheer scale of the programme. Without Powell was exiled for the scandal of Peeping Tom, he made a mucosa of Belá Bartók's opera Bluebeard's Castle for German television in 1964. The mucosa has been restored by Schoonmaker and Scorsese to be released in the UK for the first time in December, withal with a Blu-ray release. Decades without the filmmakers left us, there are new films and materials for audiences to discover. To paraphrase Conductor 71 in A Matter of Life and Death, we are starved of Technicolor. Thanks to the BFI, no more.
Cinema Unbound: The Creative Worlds of Powell Pressburger runs at the BFI Southbank from October 17 until December 21, with screenings and events moreover taking place at other venues virtually the UK.