What I Wore: Weekly Round Up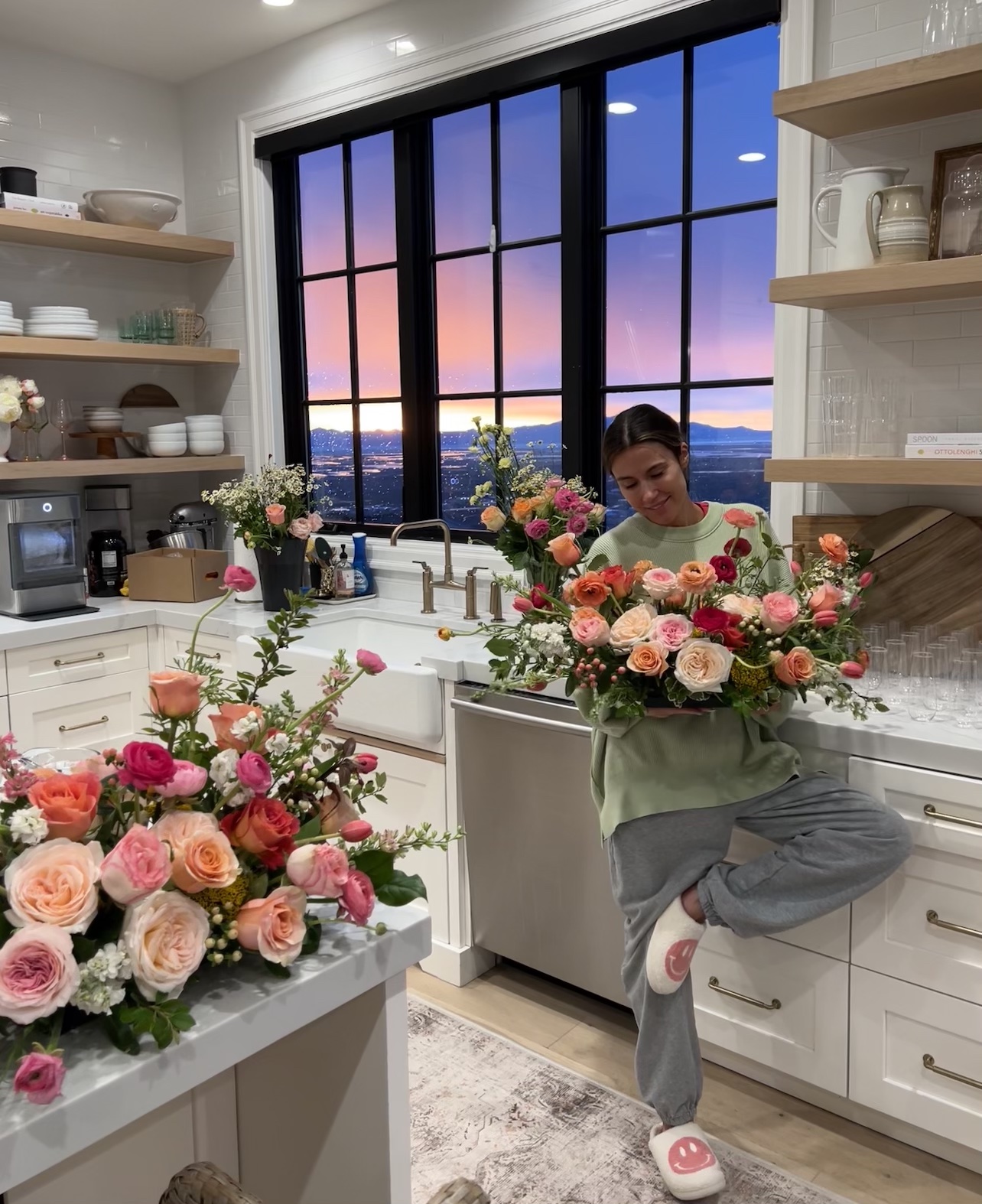 Happy Monday guys!! I've been wanting to get when into the swing of posting my daily looks here so I decided to start posting a weekly recap roundup of my outfits from the week before. If you want links a little faster, I unchangingly try to add to my LTK so you can shop directly there, but I'll moreover be compiling them here withal with sizing info, what I love well-nigh it, and any other info to try to wordplay questions you guys might have. Last week was a fun mix of loungewear and getting dressed up so it's a true mix of some of my favorite pieces recently, from mini skirts to sweats. 💕
GREEN SWEATER – WEARING SIZE XL
This is an wondrous woods for the Free People sweaters – I have it in a few colors and it's wilt one of my favorites for lounging virtually the house, packing on waterfront trips for an uneaten layer for dank nights, or just layering throughout the spring. I sized up a ton considering I love it super oversized but I've gotten some DMs saying it was too unstructured for some of you guys when you sized up that much – so much size up just one size if you don't want it too loose.
GREY JOGGERS – WEARING SIZE L
I got these sweats in a couple colors – you can see the woebegone unelevated in a size M so they aren't quite as unstructured as these grey ones. I unquestionably love the silhouette of these – they are super upper rise so I love the way they it on the hips. And of undertow you can't write-up the repletion level of boyfriend sweats. 🙂
SMILEY SLIPPERS – WEARING SIZE 8.5
I pretty much live in slippers virtually the house so my slipper hodgepodge might be slightly whilom stereotype 🙃 but they are one of the simple pleasures of life I don't think I'll overly requite up haha. These come in 8 colors and are under $20. If you're between sizes, I would unchangingly suggest sizing up – expressly for all things fluffy, faux fur, etc.
CROPPED TANK (WEARING SIZE M)
This tank has a seated bralette so it makes it super easy to wear out and well-nigh – I've worn to the gym, just running errands, with jeans – it's the ultimate tank!
BLACK JOGGERS (WEARING SIZE M)
These are the same sweats as whilom but one size smaller. Super easy philharmonic for running errands when you don't finger like getting fully ready for the day.
WHITE PULLOVER (OLD – SIMILAR HERE)
If you don't own these yet, I don't know what to tell you – they are like walking on air! Everyone I know who owns a pair says they are the most well-appointed sandals they own. Word of warning though, they are kind of like an haunting snack considering once you have on pair, you alimony decided you need increasingly colors. 😂
Love the verisimilitude of this hat! Such a tomfool 90s vibe too.
CHAIN NECKLACE (UNDER $15) & INITIAL NECKLACE (UNDER $15)
I've worn this philharmonic of necklaces increasingly than maybe any other necklace. They are both under $15 and I have worn them to bed, in the shower, to the beach, in the pool – never had any tarnishing or issues with them!
GREEN BLOUSE (SIZE SMALL)
Obsessed with the verisimilitude of this satin top! It's the perfect way to bring some spring colors to your wardrobe – the off the shoulder and sleeve detail is so good!
BLACK MINI SKIRT (WEARING SIZE SMALL)
Not mad these mini skirts are coming back! So many ways to wear them and pair them – sandals, boots, sneakers, tees, sweaters, tanks. The options are endless!
GLITTER PURSE (UNDER $15)
After eyeing the Cult Gaia version of this bag for a few months, I found this woods and decided to requite it a try since it was only $15 – and I was plane increasingly pleasantly surprised when I got it in hand! Unconfined lookalike and love it transition a squint for night.
Obsessed with everything well-nigh these sandals. As you can tell… considering I wore them 3 days in a row haha. They moreover come in a pretty kelly untried color. Surprisingly well-appointed too! Which is the only way I could wear them 3 days in a row, let's be real lol.
Loving all the creative cut-outs in tops right now – it gives plane the simplest, neutral outfits a step up.
CARGO KHAKI PANTS (WEARING SIZE 26)
I finger like cargo pants are zoetic new life into my spring wardrobe. I love how they squint with strappy sandals – it's such a pretty wastefulness between masculine and feminine. And they pair so perfectly with pretty fitted tops for spring, cropped tanks, plane vital tees – so many options for an effortlessly tomfool philharmonic no matter what your style is.
CORSET TOP (UNDER $30 – SIZE 2-4)
This is the ultimate top for spring. It looks super high-end up so I couldn't believe it was under $30! Comes in multiple colors and the corset silhouette is so flattering. Moreover love this sleeveless version (last seen here).
BLACK CHINOS (SIZE 28 x 32)
These are unquestionably mens pants – I just sized lanugo to a 28 (usually a size 25-26 in women's). I've been loving the oversized, unstructured cargo-pants fit and these seemed like the perfect way to get the same squint for less.
BALLOON CARGO JEANS (50% OFF! WEARING SIZE 2)
These jeans (last seen here) were sold out for a minute but I just checked then this weekend when I got some questions on them, and they are restocked and on sale for 50% off! Sizes are going quick but I found it on sale here too in increasingly sizes.
PINK BLAZER (WEARING SIZE L – LAST SEEN HERE)
This is flipside menswear steal – I was on the venery for a pink oversized blazer and found this suit set for under $60 and I had to try it. I moreover got it in untried and have worn it multiple times since I got it. (Loved it in this combo for when summer hits.)
PEARL HOOPS (UNDER $10)
PINK CROPPED SWEATSHIRT (UNDER $30 – WEARING SIZE M)
Love this cropped sweatshirt! Comes in multiple colors. This trademark is quickly rhadamanthine one of my go-tos for comfy pullovers and cozy knits. They make some of the cropped zip-ups I've shared recently too – tons of cute silhouettes and unconfined price points.
NEON YELLOW SHORTS: (UNDER $25 – WEARING SIZE S)
These are probably the weightier woods I've found for my FP Way Home shorts! I basically lived in the FP version last summer – these are a little bit largest price point and love all the colors. How good is this neon!? Super upper waisted and really comfortable.
I've been wearing Ultraboosts for years now – they are hands lanugo the most well-appointed sneaker for the gym or workouts. Obsessed with all the pretty spring colors right now too! Love this orange and pink combo.
Also got these pretty Nikes last week – love the pretty verisimilitude palette! I finger like new sneakers are the weightier way to guarantee I alimony going to the gym and working out 😂 anyone else?
Linked some of my favorites from last week here. Let me know if you guys have any questions well-nigh any of these pieces:


XX, Christine
The post What I Wore: Weekly Round Up appeared first on Hello Fashion.